And the scoots I used to own...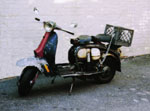 RUST IN PEACE. 1964 Lambretta Li150 Special, Series 3. Innocenti, Milan, Italy. This was my first scooter. A friend of mine (Ralph) let me pull it out of the woods behind his house, where it had sat for at least seven years (it had been there at least since he bought his house). This scooter had more inner beauty than outer, to be sure, but it ran like a top and it flew. It was stolen years ago from outside of Joyce Chen's (now Brew Moon) in the theater district in Boston. It had bare springs, no body panels (off for painting) and looked even worse than this. Why it was taken, I'll never know. Go figure. If you see it, let me know. And one more thing…. don't trust the column lock - get a big ol' length of chain and some padlocks.
A Servetta 150, converted to 175cc. I have to dig up pics of that one. We took it to Nova Scotia by ferry from Portland, ME, loaded down with camping gear. It went 14 miles, that rainy day we landed, before the clutch plates failed. (Burned! Impressive for a wet clutch! Wrong oil, it seems, and too much of a load. A light little trailer might have worked out better.) We spent the rest of the vacation camping out of a rented Oldsmobile Cutlass Ciera instead.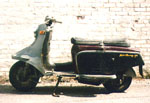 The Rabbit 150 Touring. Also from Fuji Heavy Industries, this fine machine has electric start, 4 speeds on the left handgrip (like its Italian cousins) and it flies. This one was in hellish shape bodily, but was mechanically and electrically sound. Its engine is now in a bike in Canada, spare parts are here. I bought a successor to this bike (hey, Swifti!) but it's already sold to Jon. It's perfect for him, because he owns a Subaru 360; Fuji, the maker of this scoot, started building cars under the Subaru name.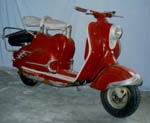 1957 NSU Prima D. Lambretta licensed NSU (of Neckarsülm, Germany) to build scooters. After building the NSU Lambretta for a few years, NSU decided to go it alone. The first year of their departure they came up with this good lookin' vehicle. This beauty next belonged to my pal Jay, and from there it came back to my town in the hands of local scootist Scott. It's wonderful when the kids don't go too far from home.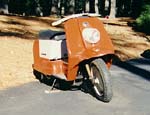 That's a Harley?! Yup. A 1964 Harley-Davidson Topper. They only made these for 5 years. They're big, too. Only the Zundapp Bella approaches it in size, though it's not that heavy. 165 cc two-stroke engine with a rope pull-start. It has the same speedo and hand-brake lever as its big brothers, but that's about where the similarities end. Born to be wild, though, I swear.

I sold this on eBay, March 2003, to a nice guy in PA.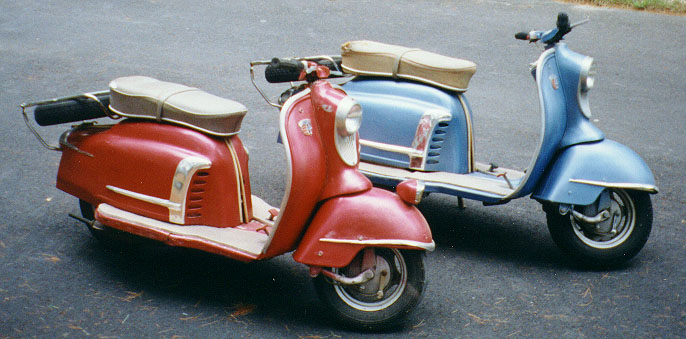 I used to have a couple of NSU Prima Fünfsterns, with their transverse-mounted, electric start 174cc engines (not 198cc as I had previously stated... thanks, Dan R., for the notice), foglights, and even a wind up clock on the dashboard! (They may have appeared for sale in 2009 on scoot.net.)And I had another, for years and years, but I never worked on it, so I sold it (fall '06) to Jay H., who will surely do better by it than I ever did.




This one time I lived in Rome. I owned a couple of scoots. This one was the first, a Honda Sky. Pretty impressive little bike: electric start and disk brakes. I had to get a 50cc bike because of residency and ownership laws... hmmph. But life was good with this little bike! I was part of the Honda 50cc family... there have been more 50cc Honda bikes built than any other vehicle in history. The crankshaft bearings failed in October, and that led me to my next Honda. Thanks, Ubaldo, for both.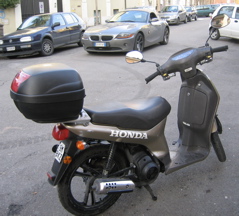 This one time I still lived in Rome. This was the second scoot I owned there, a Honda SH50, a "shifty," as some called them. What a bike! Awesome brakes, just for starters. But a 50cc electric start bike with big wheels... a great ride. Sold in January of 2006, when I finally figured out how to "own" a bike bigger than 50cc as a non-resident. That's a story in itself. Thanks again to Ubaldo and his shop.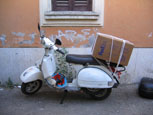 This one time I still lived in Rome even more. The third and final scoot I owned was a 2001 Vespa PX125. I didn't

really

own it, because of legal complexities, but I paid the insurance, crashed it, stuff like that. It actually belonged to a friend of mine over there, who was nice enough to use his resident status to make having a >50cc scoot possible for me. What a guy, and what a nice family. Anyway, catalyzed exhaust, front disk brakes, same P-style body, relatively unchanged since 1978 when the line was unveiled. I rode this one 14 hours one day, from Rome to Turin, for Eurovespa 2006 (the 40th Eurovespa) with a bunch of Vespa Club Rome riders.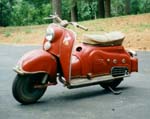 Another fine German: the Zündapp Bella R203. This heavy piece of steel is all Teutonic engineering, right down to the heavy-styled front fender. Its 197cc electric start engine moves it at about 60 mph, and its tires, larger than typical scooter tires, give it a very comfortable ride. This one I sold in December of '06 to a guy from Dover. I'm happy when they stay local. Here's a slew of pictures from sellin'.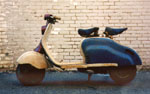 This is another Lambretta, this one a 1958 125 LDM. Look at the similarity to its German cousin above. It was bought by a very nice guy named Dave out in Alliance, Ohio, who rode it in the 60s before putting it away until now. Thanks, Dave, for sharing this beauty with the scooter world. This photo does not show the chromed air-duct fitting on the side panel, nor the panel latch handles, nor the spare tire rack… but Dave kept most all of those goodies and they are in hand.

I never worked on it... all I did was get a few pieces for it and a manual reprint. So I sold it. It now belongs (as of Jan '07) to a nice guy in West Roxbury. Still local, thankfully. Here's a slew of pics from the sale listing.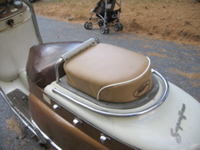 1964 Rabbit Superflow S-601. Built by Fuji Heavy Industries, a company which would later start building cars under the name Subaru. Complete with air suspension, electric start, and automatic transmission, all that's missing are fins. I actually owned two of these... one I sold to Charles H. out in Monterey a long time ago (since 1996, though). The other is in Hudson, MA, as of January 2007. Here's a slew of pics from the sale.



1959 Mitsubishi Silver Pigeon. Also known as the Rockford Silver Pigeon, as these were rebadged by Rockford. WWII was still a little too fresh in consumers' minds to sell a bike under the Mitsubishi name, it seems. This beauty has its own page. As of August 2007, it's in John and Michelle's hands... still in Massachusetts! Nice people.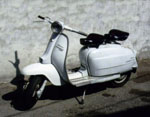 1965 Lambretta Li125, Series 3. Innocenti, Milan, Italy. There were about 110,000 built. With only a few changes, these scooters are still being built by Scooters India Ltd. and exported all over the world. (The scooter pictured was one of thousands sold under the name Riverside by Montgomery Ward in the 60's.) Did I mention that the factory near Milan, on the Lambro River (whence comes the name Lambretta) is now a shopping center? Crazy planet. It's a spiritual hardship to go on a pilgrimage to one of the holiest places in scooterdom and find a shopping plaza. As of March 2007, a nice guy called Jim B. out by Denver. What a cool guy. And he's got Montgomery Ward in his family, kinda, so it's extra special to have a Riverside Lammy. Here's a page of pics from the eBay listing.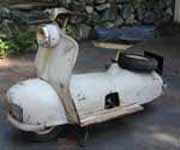 1952 Piatti. I still don't know much about this bike! It has either a 50cc, a 98cc, or a 125 cc motor, and was built in Britain by Cyclemaster (Britax) and not, like some of its siblings, in Belgium by Les Anciens Establissements D'Ieteren. None were imported to the US. This one came from Santiago, Chile. It has its own page, nudge nudge. My friend Jay, who spotted this bike on eBay and suggested I try for it many years ago, is now its owner.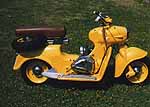 1958 Rumi Formichino Sport. 125cc two-cylinder, two-stroke with a 22 mm Dell'Orto carburetor. ~8hp, ~70 mph top speed. Quite a little screamer, especially given that Formichino means, simply, "Little Ant." Moto Rumi, of Bergamo in northern Italy, built two-man submarines during WWII. It wasn't until post-war reconstuction that Rumi turned its attention to road vehicles.

This one arrived in late March, 2001, from Gene out in San Diego. I sold it in December '08 to a nice guy in Florida, a serious Rumista. Then in 2018, I got an email from another Floridian... the new owner! He did an engine rebuild, and he's riding it around. Sweet. Check out the Formichino page.