---
Max's Scooter Page
1959 Silver Pigeon
last updated 8/23/2007
Your comments are always welcome. Send me email!
---
Offered by Rockford Scooters of Rockford, Illinois, this bike was made in Japan by Mitsubishi. This one is a model C-76F. It's easy to ride because it has an automatic transmission between its four-stroke (11.7 cu. in.) motor and the chain-drive output.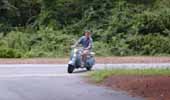 Slim the UPS Pilot goes for a ride.
Note the handy toolbox at the back. A cushion can be fitted to it for a pillion rider; foot pegs swing out from under the legshields.
On the left side, the chain drive. On the right side, the variable-pitch drive pulleys.
Floormat on the left side. The left handgrip and the lights and horn switches.
Left: The "pigeon" in the horn's chromed cover looks more like an eagle from WWII Germany, but ok.
Center: The dash includes only a keyswitch and the speedometer/odometer.
Right: Note the "Made in Japan" badge with the three diamonds logo so familiar now on Mitsubishi cars.
Check out the Silver Pigeon Home Page, http://www.silverpigeons.com/
Sold to John and Michelle D. in August, 2007.
---
| | | | | | | | | |
| --- | --- | --- | --- | --- | --- | --- | --- | --- |
| | | | | | | | | |
| My Scooters | Other People's Scooters | Quotations and Poems about Scooters | Three-Wheelers | People-Powered Vehicles | Scooter and Odd Car Organizations | Help in finding scooters and parts | Links | Bumperstickers |
Send Max email
---