---
Max's Scooter Page
1958 Rumi Formichino Sport
last updated 12/2018
Your comments are always welcome. Send me email!
---
Thanks, Gene, for all that great documentation, a smooth and fun transaction, and a beautiful machine. You and Waid show how it should be done. Off it went to FL in 2008, to a nice doctor. Then in 2018 I got a ping from its new owner, Joseph, also in FL... he did an engine rebuild, and he's driving it. Niiiiice.

These pics are from the gray day in March when I unloaded it... better photos later?
I fetched up the nicely-done crate one Saturday morning. Note the twin trucks in the right photo: my mother-in-law came to visit in their truck. Excellent, huh.
Three cast aluminum sections form the body; the engine itself is a structural element. This Rumi two-cylinder engine is legendarily smooth.
A single 22 mm Dell'Orto carb breathes for the two aluminum-alloy, steel-lined cylinders.
The two 42-mm-bore and 45-mm-stroke comprise the 125 cc displacement, the cylinders fire 180 degrees apart.
The engine generates 8hp at 7200 rpm.Compression ratio is 7.0:1, the bike can go 69 mph.
This model has a four-speed gearbox.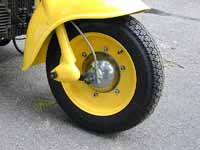 Front wheel detail. 3.5 x 10 in tires. 125 mm drum brakes serve front and rear.
Learn more about the Rumi, other Rumis and the owners who love them.
---
| | | | | | | | | |
| --- | --- | --- | --- | --- | --- | --- | --- | --- |
| | | | | | | | | |
| My Scooters | Other People's Scooters | Quotations and Poems about Scooters | Three-Wheelers | People-Powered Vehicles | Scooter and Odd Car Organizations | Help in finding scooters and parts | Links | Bumperstickers |
Send Max email
---