---
Max's Scooter Page
1963 Vespa 150 (VBB2)
last updated 7/26/2015
Your comments are always welcome. Send me email!
---
The most common, and most lovely, of the Piaggio line.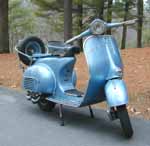 I bought this bike from a man who had lace painted the cowls for his daughter in the early 70s. (Other than that, it is all original and unmolested.) She rode it to college classes before it was garaged for the next 14 years before I bought it, and another three before I took time to work on it. (Scooters are patient.) This scooter spent most of its time in the house. (Yeah. In the living room.)
It had last run in 1973 before my pal Jay took on the task of cleaing it up and making it runnable once again in the spring of 2000. When it was ready, we went out for a ride, each of us on a VBBs, on a weakly sunny Sunday. We were treated to wind, wind-driven dirt, rain, and slapping large wet snowflakes in the space of a half hour. But it was a delight, nonetheless!
Love those lines.
So clean you can eat off of it.
---
Now, it's 2015, and time to send this beauty on its way. I've had it for about 20 years. I've only ridden it about 100 or so miles in all that time. And the only bad thing I've done was screwing up the removal of the lace painting on the glovebox side. As far as I know, I'm the thrid owner. As far as I know, the cases have never been split. It runs like a top... I just took it out last week, I just took it out of the shed, topped up the tires, put a little Marvel in the cylinder and hand turned it, and put gas in the tank (I had put it away drained), and it started right up. Took it for a spin, and it's lovely.
Here are some more recent pics over on flickr (July 2015). Note that I don't have clamps for the windscreen, but the windscreen is included... with its yellow, broken plexi.
The motor and frame don't have the same numbers; this doesn't mean they didn't come from the factory together, but it's just one of those things some buyers really like to know! The Mass plate with the 1973 sticker in the corner is included. The bike has been registered in Maine since June of last year (2014). As you can see on flickr, the odometer says 384.4 miles. I'm pretty sure the odo works, though it's obviously wrong; I'll go out for a spin tomorrow to check it.
---
| | | | | | | | | |
| --- | --- | --- | --- | --- | --- | --- | --- | --- |
| | | | | | | | | |
| My Scooters | Other People's Scooters | Quotations and Poems about Scooters | Three-Wheelers | People-Powered Vehicles | Scooter and Odd Car Organizations | Help in finding scooters and parts | Links | Bumperstickers |
Send Max email
---