---
My pilgrimmage to Reno
R. Buckminster Fuller's
Dymaxion Car #2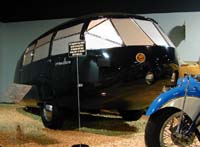 ---
I went to Reno in the summer of 2000, where I visited the most excellent collection at the National Automobile Museum. (They didn't have a website back then, but they do now! Here's the 411: National Automobile Museum, 10 S. Lake St , Reno, NV, (702) 333-9300)




This sign says...
1934 Dymaxion
Donated by: Harrah's Hotels and Casinos
Adopted By: Joseph and Sue Modarelli (sp?), Ron Stott (sp?)


Model: "2" 4D Transport

Built by: 4D Company, Bridgeport, Connecticut

Price: N/A

Engine: L-Head, Ford, V-8 Cylinder, 75 H.P.

Bore: 3-1/16"

Stroke: 3-3/4"

Displacement: 221.0 Cu. In.


Richard Buckminster (Bucky) Fuller was recognized as a poet, engineer, architect, cartographer, mathemetician, sailor and philosopher. Many believe his invention of the geodesic dome is as architecturally important as the Roman arch. Fuller's far ranging interests also included automobiles and he designed (with the help of Starling Burgess and Anna Biddle) the Dymaxion, one of the most significant and progressive cars ever built on the 1930's. Burgess, a famous naval architect and aircraft builder, was hired to engineer the car and direct its construction. Biddle, a wealthy Philadelphia socialite and longtime friend of Fuller, agreed to financially back the project. The three-wheeled cars were built in the old Locomobile factory in Bridgeport Connecticut.

Fuller coined the word Dymaxion from dynamic, maximum, and ion. To Fuller, a three-wheeler wasn't radical, it was simply logical. He
didn't care about marketing statistis, buyer profiles, or luxury styling cues. This highly streamlined car used a Ford V-8 engine at the rear to drive the two front wheels. The single rear wheel steered like the rudder of a ship. Since the rear wheel could pivot 90 degrees, the car could easily turn on its own axis, giveing the driver the sensation of meeting himself coming.

One of the most radical features of the Dymaxion design was that it was mounted on two frames, hinged at the front, with one frame carrying the engine and drive chain while the the other carried the rear wheel mount, suspension and steering. There were no rear windows, just a periscope. Top speed was about 120 mph with fuel economy between 25 and 30 mpg. During 1933 and 1934, three Dymaxions were built before Fuller ran out of cash. #1 and #3 have disappeared. #2 is displayed here.
---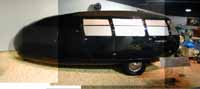 Legend had it that this vehicle #2 was found serving as a chicken coop. More recent evidence (that came my way August 2003; thank you to the National Auto Museum) discounts that notion. In any case, the decades-old interior was in very bad shape. This is why the windows are, at the time of this writing, painted opaque from the inside. A difficulty the good people at the National Auto Museum face in restoring the interior is the paucity of photos and plans of the interior. Here's to their success. (Of course, tell someone if *you* have useful information!)
Another important item: Bucky Fuller's car lost some credibility with the public when it was involved in a fatal crash. At first it seemd it was a rollover, all by itself. Later investigation, however, found that a second car of sightseers was involved in a high-speed collision on the highway. (Source: among others, Buckminster Fuller's Universe, Lloyd Steven Seiden, Perseus Publishing 1989. ISBN 0-7382-0379-3)
---
Back to the Dymaxion page.
Back to Max Hall's home page.
Send me email!
---