---
Max's Scooter Page
1997
Microcar and Minicar Weekend
last updated 8/11/97
Drop me a line! Click on this: mhall@maxmatic.com.
---
Now that was fun weekend. Saturday gave us such memorable scenes as…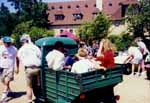 My 1974 Bajaj driving around on the picnic grounds. There is, you will notice, an entire family in the back. It makes it easier to understand how these are the workhorses of the third-world to see it loaded like this, but still capable of chugging along.
You can just barely see two HMV Freeways in the background.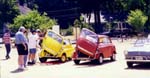 These are two of the fine specimens of BMW: Isetta and a 600 that appeared at the show.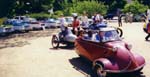 Here's a Messerschmitt Kabinenroller in the foreground, and a Honda with a sidecar in the background. Note, all along the left, the row of Nash Metropolitans. Good showing!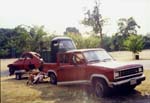 And here's the view at the end of the day… loading up the Freeway and the Bajaj with everyone else gone.
---
| | | | | | | | |
| --- | --- | --- | --- | --- | --- | --- | --- |
| | | | | | | | |
| Scooters | Quotations and Poems about Scooters | Three-Wheelers | People-Powered Vehicles | Scooter and Odd Car Organizations | Help in finding scooters and parts | Links | Bumperstickers |
Send Max email
---