---
Instantiations of the Dream
TTW - Tilting Three Wheelers
Human Powered TTWs
last updated 6/26/2005
---
A partial survey of human-powered tilting trikes... (a more complete list is below)
---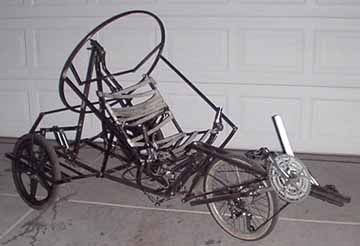 Andrew Phillips' L.E. C.R.A.F.T.
This picture, from Feb. 2000, shows the trike in development. Note the supports for the canopy for all-weather touring.
1F3T. I finally have got around to putting up information about this beautiful home-built trike. The "L.E. C.R.A.F.T." (Leg Energized Commuter Recumbent Aero Faired Trike) is "a fully enclosed, three wheel, Human Powered Vehicle or, H.P.V., also referred to as a Velocar." Andrew's plan is to make a journey down the West Coast, across the country, and partway up the East Coast... starting in May 2000.
Go visit Andrew's page, and help him on his TOUR! He's welcoming all interest, from good wishes to suitcases full of cash.
---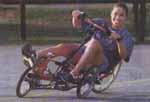 Wayne SooHoo's Zoetec Aileron Trike
2F3T. A very sophisticated, yet simple, TTW HPV. Wayne SooHoo is licensing this very interesting technology. Any interest? He's wsoohoo@ameritech.net. Give him a shout. You can also read more about Wayne's bike at this page, for a complete reprint of a news article about his speedy tilter. Wayne also has a powered version, also visible there.
---
Frank Bokhorst's Recumbent TTW HPV, The Lean Steering Trike.
2F3T. In Mr. Bokhorst's own words: "The advantage of lean steering in the case of a trike is (hopefully) that there will be less tendency to flip over during tight cornering than is the case for a conventional trike that remains upright. This tendency can be countered by a low center of gravity and wide track. However, the present design has a narrow track, so it can pass through a normal doorway."
Recumbent Trike with tilt steering by Frank Bokhorst.
---
ST Manufacturing of Japan
2F3T and others. This page has a range of home-built HPVs, some of which are tilters, but all of which are good looking to anyone with DIY compulsion.
ST Manufacturing HPVs, of which some are TTWs.
---
Varna HPVs
2F1T and others. This page has a range of gorgeous bikes, many of which are tilters.
---
Tripendo HPV
2F3T. A very sophisticated and finished-looking TTW HPV. Help bounce this guy's hit count up!
---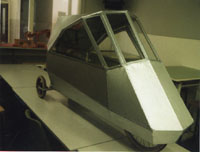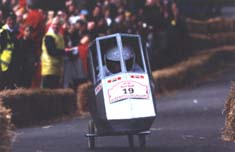 Derek Round, & Co., Gravity Racer
Derek Round built this as a school project (with some partners, I think). Before the race, he wrote..
Its taken a bit of time, but its finished at last, and we've entered it for the UK National Red Bull Soapbox Racer Competition this Sunday!
Wish us luck?
Cheers
Derek Round
And the caption for the second pic, a few days later:
Just thought you'd like to see a picture of our Soapbox racer, on the downhill course, just before we crashed(ouch!).

Cheers
Derek Round
Well done, lads!
---
Bram Smit, Holland, tilting recumbent
Cool-looking guy on a cool-looking bike! Bram wrote:
Max....I tried to build a tilting recumbent trike as simple as possible. It corners like hell. Here I send You some pics.
greetings from Holland
I think he's got it!
He added later:
The latest version of the trike has an vertical lock-out. So if I enter a traffic light, I stay in the upright position and I can keep my pedals clicked on .
Nice improvement.
He added this detail pic later: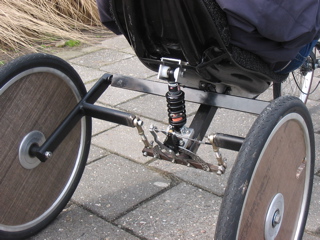 It's a pleasure to make your acquaintance, Bram! Good luck with this cool machine.
Bram can be reached through his Web pages at http://www.fastfwd.nl/
---
---
Mitch Casto, human information velcro, assembled this amazing summary list.
---
IHPVA
A gateway to all kinds of good people-powered stuff: it's the International Human Powered Vehicle Association. Not just bikes, but boats and other vehicles, too. These are the champions of, as they wittily ascribe to one designer, "Muscle Cars."
---
There are five parts to this site:
And a note on intellectual property and copyright: as far as I know, everything on this page is available elsewhere on the web, and all sources are cited. Complaints and questions are always encouraged, email me.
---
Back to Max Hall's home page.
Or… Send me email!
---