---
Max's Scooter Page
1957 Piatti
last updated 2/09
Your comments are always welcome. Send me email!
---
What a strange and wonderful scoot.
---
It inspires the muse.
To paint, or not to paint;
That is the question.
Whether 'tis nobler to keep rare a scoot original,
Or suffer the slings and arrows of a good sandblasting
Followed by a candy-apple-red paintjob
And a bit of polishing on the aluminum bits.
Neither a Vespisti
Nor Lambrettista be;
Follow me, you see:
To the club of Piat-ti.



- Jay H., August 2000.
---
Others own and love them, too.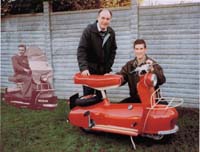 Mike D. sent this picture in November of 2000, with the note:

"I have been a fan of the scooter since 1957 when it was the first motorised transport I ever owned . It wasn't a very reliable machine nor did have as good performance as the Lambrettas or Vespas. But it stood out from the crowd and had a great character! It still is unique today-there are very few left, and even less in running order, which is a shame-I love mine! It's pure nostalgia! The attachment with this e-mail is a composite photo of my Piatti, then and now. Also in the photo is Nick B.*, a NewZealander. He has two of them. I believe he has been in contact with you. It was Nick who told me about your Piatti Page. There is a book called Motor Scooters Family Album by Andrea and David Sparrow ISBN 1-901295-03-6/upc: 36847-00103-2 which has my Piatti** on its cover and featured inside together with photos of the original Belgian version. When production stopped over there it started in England and was one of the first British Scooters to be produced in the first Scooter Boom years. It only survived here for about two years but it left a lasting impression on me and on a little band of enthusiasts! Best wishes,

-Mike"

* Nick B. has the best Piatti site that I know of. Catch it at http://www.piattiscooter.com/. And thanks, Mike, for your email!

** Get it?! His is the beautiful Piatti on the cover of a book!
---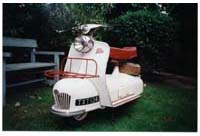 Tony G. writes, "Mine is a English model and came from London. It is very complete and
orginal. " Sweet.
---
| | | | | | | | | |
| --- | --- | --- | --- | --- | --- | --- | --- | --- |
| | | | | | | | | |
| My Scooters | Other People's Scooters | Quotations and Poems about Scooters | Three-Wheelers | People-Powered Vehicles | Scooter and Odd Car Organizations | Help in finding scooters and parts | Links | Bumperstickers |
Send Max email
---